If you're looking to spend time, rather than save it, the family driving focus shifts to scenic and educational topics. This Great Drive series uses an interactive United States road map to highlight geological, ecological,and cultural lessons in history .
This drive from Albuquerque to Santa Fe can easily eat up the whole day if you let it; it's only about 130 miles, but there's plenty of reasons to stop and get out of the car.
I spent a couple of months in
Jemez
Springs during the winter of 1994. I was building houses in Rio
Rancho
-- near Albuquerque -- and staying with a
friend who sold sculpture in Santa Fe
. The southern half of this route was my morning and evening commute, the northern half was the weekend pleasure drive to Santa Fe.
There is an interesting ruin
in
Jemez
Springs on the north end of town the
Jemez

State Monument
. The ruins are from two periods: Ancient people (up to 4,000 years ago) and post Spanish Conquistadors (around 450 years ago). The Mission San Jose
de
los
Jemez
Church (top photo and second photo) was built in 1621, right around when the pilgrims were landing on Plymouth Rock. The walls were six or seven feet thick (that's really thick by wall standards).
The graduated window sizes and golden mean proportions that are evident in this mission ( top photo shows the inside) lead many experts to believe that it was designed by someone familiar with European Baroque architecture (
Tinsley
likes to say "If it ain't Baroque, fix it"). Scholars think it was a Franciscan priest named
Salmeron
that also did a lot of work in Mexico City.
Jemez
Springs
a nice place to stop for lunch
; a couple of restaurant/bars on the right (driving north) and at least one cafe on the left. It seems to me I used to get burgers at
Los
Ojos
Saloon; I think it was the second bar on the right, but it may have been the first one. Try them both.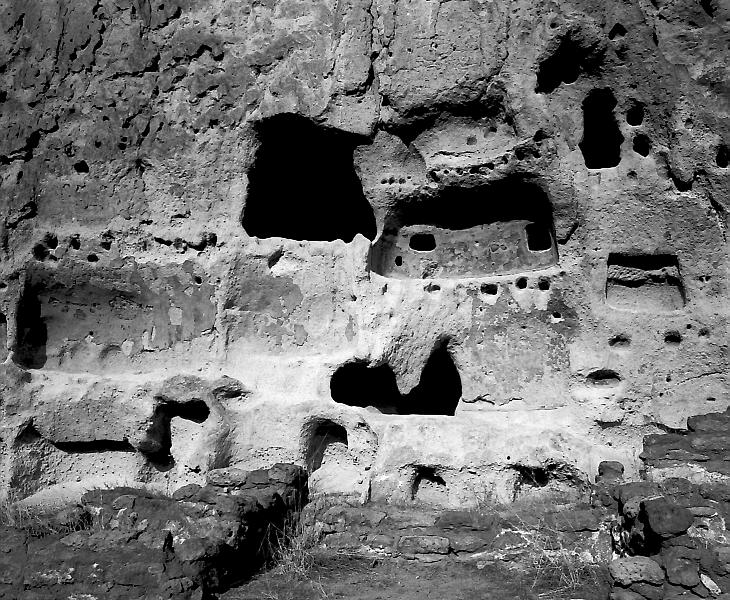 Further north are the cave dwellings at
Bandelier

National
Monument
, an old settlement of The Ancient Ones, people that came to the area over 12,000 years ago. That's 10,000 B.C.! (ancient = long, long time). A few groups comprise the ancient pueblo people; the Anasazi and Hopi are among them.
Archaeologists
think that hunter/gatherers migrated from the four corners area and started settling the
Pajarito
Plateau around 1100. Here, they took up farming and by 1150 the place was
hoppin
' (so to speak). It kept growing and thriving until a couple of new groups of people came along, Navajo and Apache. The Ancient Ones were deeply spiritual and
peaceful
, not warriors like the newcomers. For this reason, they moved down to the desert floor, around 1300. At this date, the Ancient Ones become referred to as the Pueblo People.
The national monument makes a good side trip after lunch, and of course,
there is a museum and gift shop
just in case you want a
souvenir
. I can't remember if the monster rock is before or after
Bandelier
National Monument, but you'll miss it if you drive south. Driving north, the rock is on the left.
Before you get to
Bandelier
National Monument, you'll drive along the rim of a
caldera
which is a sunken volcano.
Crater Lake is a famous
caldera
. If you look at the Google map in hybrid view, you'll notice the arced section of road skirting the rim (and if you back out, you'll see the whole crater). Up here is beau
tiful
Ponderosa
Pine parkland.
Further still, you'll reach
Los
Alamos
, home of
Los

Alamos

National Laboratory
, of Manhattan project fame, where Oppenheimer and all of his propeller-head buddies invented the atomic bomb. There is a
free science museum
here at the lab (they have Lasers there).
Keep on driving and you'll finally roll in to Santa Fe, but not before you pass Camel Rock, one of
Tinsley's
favorite US landmarks. A lot of stuff has happened here in central New Mexico from millions of years of erosion sculpting Camel Rock, to the ancients settling the area 12,000 years ago, to the atomic age of the mid twentieth century. It ought to make good conversation along the drive.